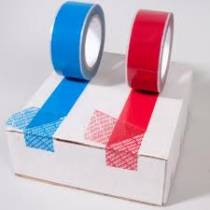 Sending sensitive documents or valuable goods?
Do you want to ensure your goods are not tampered with?
Don't get caught out by thieves!
Why not try out our tamper evident security tapes or labels.
Tamper evident security tapes and labels are quite self-explanatory; if your document or parcel has been tampered with, the recipient will know immediately. Once opened, the tape will reveal a message such as "void open" in order to warn you of a previous attempt to expose or tamper with your goods.
These products are of use to any individual or company who wants assurance that sensitive items are not exposed. However, it may be of particular interest to those concerned with:
Security (for example in airports and stadiums)
Traceability
Contamination
Like all J.I.T. products, our security tapes and labels are of the highest quality. A strong polyester backing and solvent acrylic adhesive sets our security tape apart from the crowd and is the number one choice of many a sensible business.
Visit our tamper evident page to purchase your peace of mind today.