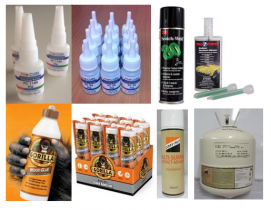 High bond adhesives have always had their place in manufacturing, we also stock contact adhesives in all forms for bonding wood, over-laminates, plastics, rubber etc.
Hotmelt adhesives and cold glues for more general applications and Superglue (cyanoacrylate), anaerobic and thread-locking adhesives for engineering applications.
In the electronics industry we supply a range of adhesives with electrical, mechanical and thermal properties to meet with demanding applications as things get smaller and hotter.
For advice on the which adhesives would suit your application, please contact us on 01698 748290 or via email This email address is being protected from spambots. You need JavaScript enabled to view it.