JIT high performance glazing tapes are designed specifically for window and door glazing applications.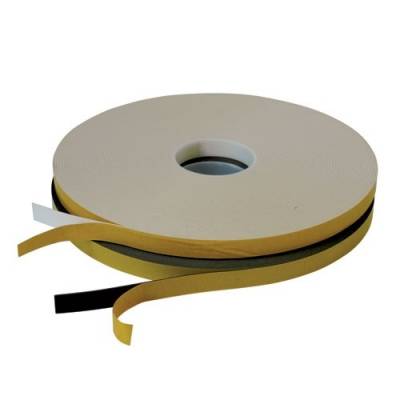 Security Glazing Tape
A special enhanced strength closed cell PE foam, coated on both sides with a very high performance cross-linked pure acrylic adhesive and protected by our production aid film liner or a paper release liner.
Improved tack, adhesion and dynamic strength
Good gap-filling between slightly uneven materials.
Very high shear strength even at high temperatures
Good shear even at high temperatures
Excellent resistance to water, solvents & plasticisers
Excellent resistance to UV light and outdoor ageing
Good adhesion to metals, glass, PVC and most paints
Compatible with acrylic and poly-carbonate (tested by GE Plastics)
Available with production aid film liner or paper release liner
Temperature Range: -40oC to +100oC (Min application temperature +10oC)
Georgian Bar Tape
A strong polyethylene foam carrier coated on both sides with a heavy mass of high tack, crosslinked modified acrylic adhesive - resulting in a very aggressive high tack foam tape.
Exremely high tack bonds immediately to almost all materials
Good adhesion to rough an low energy surfaces.
Good gap-filling on uneven mouldings and extrusions
Exceptionally high strength foam carrier
Good Shear, even at high temperatures
Good resistance to solvents and plasticisers
Excellent ageing and UV resistance
Available with production aid film liner
Temperature Range: -40oC to +80oC (Min application temperature +5oC)
For more information on our range of Security Glazing & Georgian Bar Tapes, please contact us on 01698 748290 or via email This email address is being protected from spambots. You need JavaScript enabled to view it.