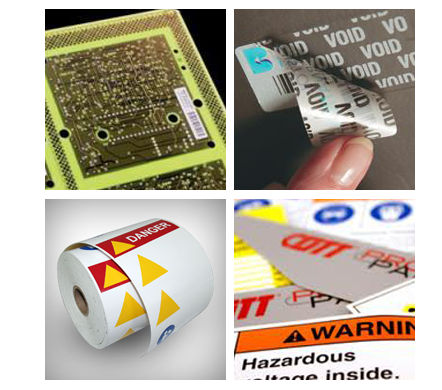 Custom Labels / Tapes & Dome Badges
Durable pressure sensitive for decorative, warning, instruction and identification coated with a range of high performance adhesives designed to withstand environmental extremes. Labels remain firmly adhered to maintain the image throughout the product life. We also print and convert a range of custom printed label tapes for temporary or permanent identification such as, product marking, beer kegs or pipe and maintenance installations. The dome resin finished badges add a quality seal of approval to any product such as the WOW saddle case study below.
High Temperature Labels
A range of materials designed to resist extreme high temperatures. Rated to constant operating temperatures of 200°C to 800°C these products are designed for specialist, automotive, electrical and industrial uses where UL, UR and CSA approval may be specified.
Security Durable tamper-evident films
Designed to protect against fraudulent warranty claims and product tampering. Polyester films reveal a clear non-reversible VOID message upon removal and PVC products fracture upon attempted removal, preventing subsequent re-application. We also have a range of tamper evident tapes in "our store"