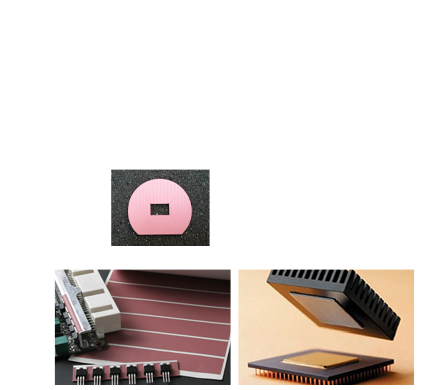 Thermal Performance and heat dissipater materials
We can supply and convert a range of vibration dampening materials ideal for isolating loads of 100g+ including temperature and MILSPEC applications. Advance high dampening thermoplastics and urethane materials can also out perform traditional rubber solutions. We also have thermally conductive gels and filler pads for narrow or confined space thermal problems capable of withstanding working temperature of -60 to +200degC.
With most products getting smaller and hotter there is an ever increasing need to draw heat and control temperature in a wide range of performance products. To meet the demanding needs of our customer's research and development departments we can select key performance materials from around the world and can convert to your specific requirements for that perfect fit.
We can supply in sheets or rolls or covert into specific shapes to meet intricate locations with our without adhesive. Other Thermal products include Tapes, Adhesives & Pastes.